Character Information
Physical description
Location Information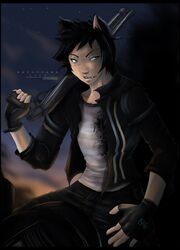 Mohammad A.K.A Kian Mikierr is a member in the Five Stars Wiki. He's the first and so far the only Middle Eastern I the wiki. He is usually role-playing as his character Kian from RFTS, and sometimes just his own personality but still as Kian.
Biography
Edit
Mohammad, the master mind behind Kian, got the name and character from a freelance illustrator called NeKoChAnK A.K.A Karla. In the comic Reaching For The Sky (RFTS) Kian is a Neko (Cat-human). As a Hitman and student, he fights demons and lust and has alot of "Crazy Time" with his friends. And he fucks everyone. He is also dating Nee Ikeeda in the comic.
Corresponding Planet
Edit
Not chosen, yet.